UX / UI design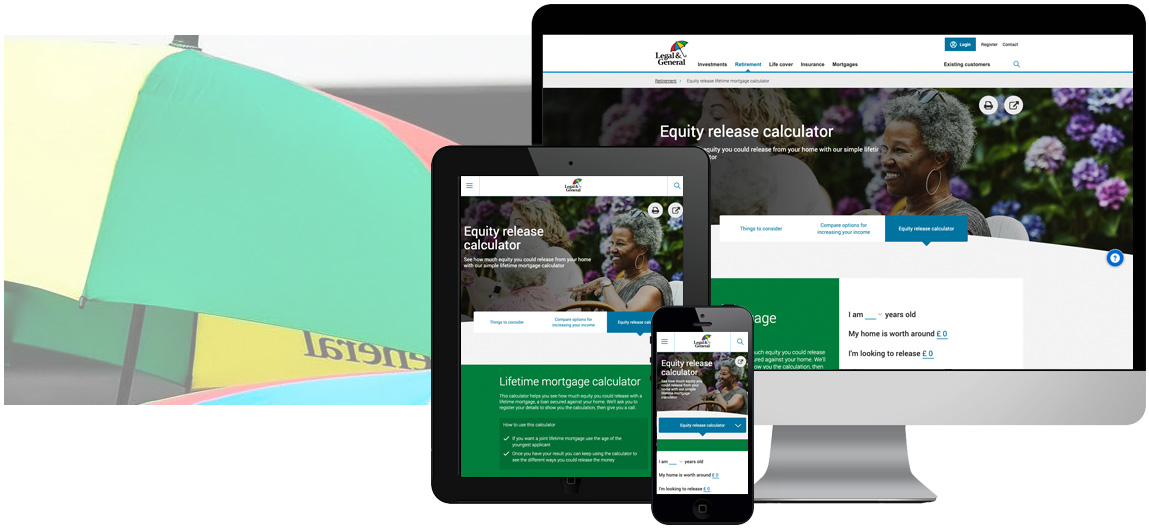 Project type
Project Completion
Project Duration
Deliverables
Interface (UI) design
Interactive wireframe prototypes
Discovery / Design workshop feedback (slides).
UX Methods
Sketching and wireframe prototypes
High fidelity prototypes
Usability testing
Discovery and Design workshops
Stakeholder research (remote and on location)
Tools
Legal & General Group plc is a multinational financial services company based in London and Hove, England and is one of Europe's largest insurance and asset management groups, its products and services include investment management, lifetime mortgages, pensions, annuities, and life assurance.
Hired to provide UX design support on a wide range of projects utilising techniques from discovery workshops, UI design and prototyping to usability testing and stakeholder research over a 8 month period for B2B and B2C products and services.
Workshops
Initial project to provide research, IA and interface design for the amalgamation of two Investment blogs.
Working with the marketing team within the L&G investment sector, three stakeholder workshops were run with three separate investment teams to determine the new content structure, workflows, business goals and KPI's for the blog.
Having gathered the necessary requirements, an additional 'design sprint' workshop was run with the external development agency to determine the final user journeys and interface design. A final set of layouts were then provided in Sketch format detailing all new features and navigation for the blog.
UI design, rapid prototyping and usability testing
Working within tightly controlled timescales and design briefs from the ISA marketing teams, two microsites were scoped out and wireframe layouts designed in Sketch and Axure ahead of final development in-house. Initial Tree tests and subsequent usability testing was carried out remotely with the assumed target audience using UserZoom / Axure.

Layout designs for ISA Investor microsite.
Online tools
A number of online calculators and tools were designed to assist users in determining the best retirement products offered by L&G.
"What are the chances" was designed to assist IFA's in discussions with clients regarding life events and whether specific insurance products were relevant to those events. Due to the tight deadlines involved, it was decided the best approach was to create a fully designed, high fidelity interactive prototype in Axure primarily for demonstration at a conference attended by L&G retirement experts. The rapid feedback from the conference attendees allowed the design of the prototype to be iterated on a daily basis, finally resulting in a tool that was proven to be effective in communicating to the customer ahead of its final development / build.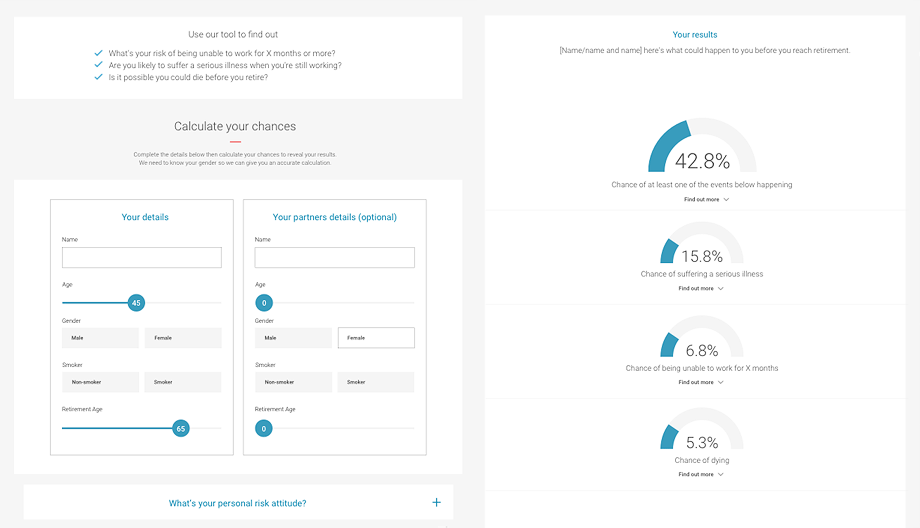 Project type
Project Completion
Project Duration
Deliverables
Interface (UI) design
Interactive wireframe prototypes
Discovery / Design workshop feedback (slides).
UX Methods
Sketching and wireframe prototypes
High fidelity prototypes
Usability testing
Discovery and Design workshops
Stakeholder research (remote and on location)
Tools